DC office job circular 2022 – District Commissioner Office
DC office job circular 2022. District Commissioner Office Job circular has been published in March 2022. The circular has been authorized by the district commissioner office of Chattogram-Dhaka-Bagerhat-Khagrachhari Bangladesh. The application for the job circular has given below. Here we have a new govt job circular click to see the job detail of the district commissioner office. Like our Facebook Page to get regular updates.
Yesterday the DC Office Job Circular 2022 has announced by the Authority, district commissioner's office. The application for the District Commissioner Office Job Circular 2022 will take up to June 202২. The circular has been found on the official website at www.mopa.gov.bd.
| | |
| --- | --- |
| আবেদনের ধরন | অনলাইন/অফলাইন |
| আবেদন শুরুর তারিখ | ০৯ আগষ্ট ২০২২ |
| আবেদন করার শেষ তারিখ | ৩০ সেপেটম্বর ২০২২ |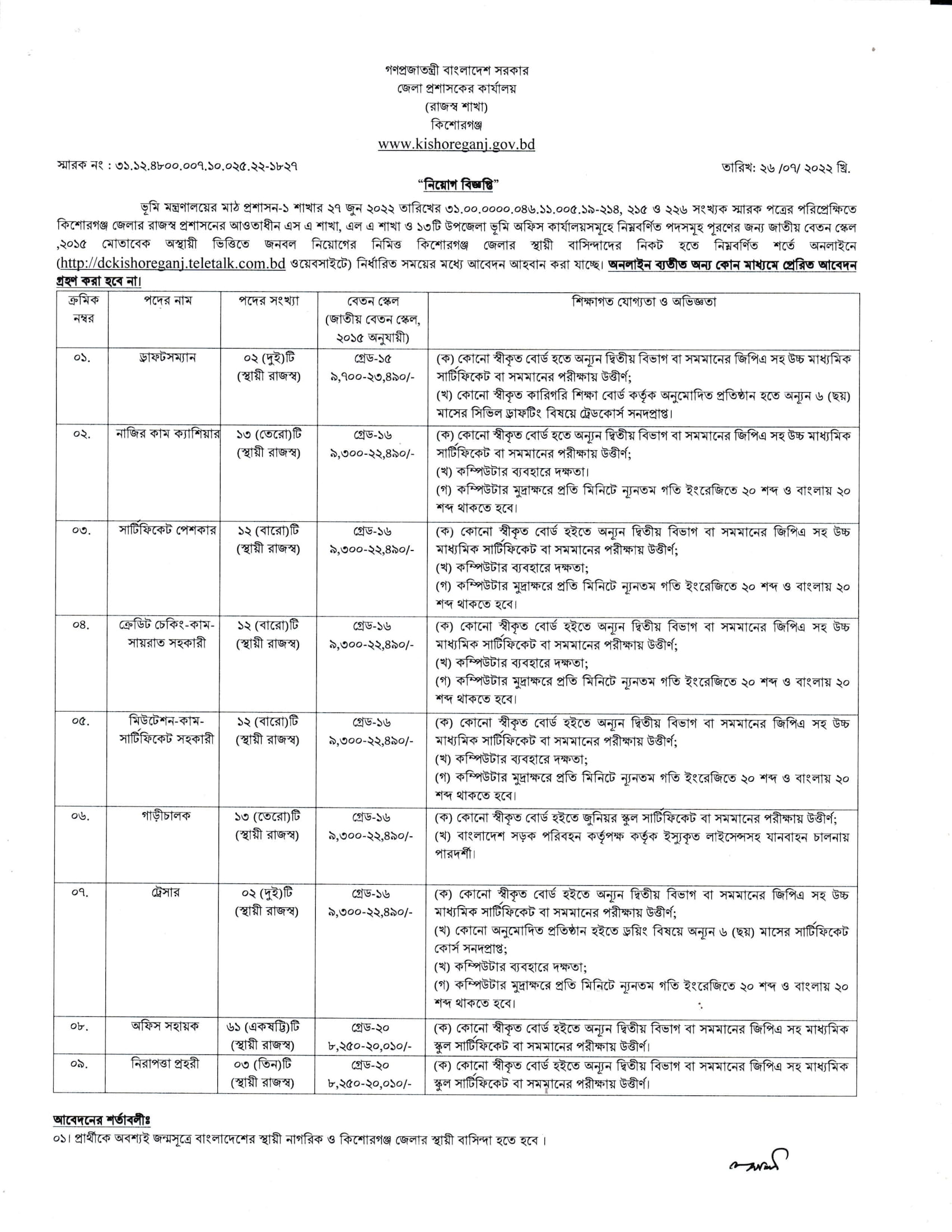 "Also we are try to published various country visa processing, study information, green card information and others. If you want to get more information about foreign university admission then keep you eye here regularly. If you have any question then don't forget to contact with us. Thanks"
Barisal Dc office job circular 2022

Gender: Both males and females can apply.
Salary: 10200-24680 Taka.
Published On: 28 July & 1, 3 August 2022.
Application Last Date: 17 August & 15, 30 September 2022.

Apply process
Applicants need to apply writing application form and the application form will get to our website below and have to pay for the exam fee within the deadline  Otherwise it will be not applicable. Details all information of applying process has given to the circular. Download the circular from below and go for a review and to apply.  After successfully applying the task they need to attend the examination. And they have to select by the exam result. The conditions and details will be available in the circular.
Dc office job circular
Are you searching for a government job circular? you are the right place. we published always update government and non-government job circulars published. This job is very likely and respectful. this job is most important for unemployed youth. so, interested candidates can apply.
Short job summary of dc office job circular 2022
Educational 

Qualification

: JSC, SSC, HSC Passed At least.
total post: see the circular

Applications

Start: Already Starts.

Applications

 Deadline: The application will continue on  10, 14, 15, 20, 31 March 2022.

Fee: 112/56 Taka
Job Categories: see circular
Age: Minimum 18 to 32

 years old

 from June.
Salary:  See circular
The application starts on

Educational Results: See the circular.
apply online: http://dcctg.teletalk.com.bd/
official website: www.chittagong.gov.bd
conclusion space
To get a regular government job circular to stay with our page and share our post on your timeline. You can also comment on our Facebook page at www.facebook.com/Bdresultpage or message our Facebook page directly to contact us and get more information about this Bangladesh Fire Service and Civil Defense Job Circular 2021 and about District Commissioner Office Job Opportunity 2022 then visit our website regularly at dailylottoresults.net. Thanks for being with us.
I hope here is found your jobs latest and update news. If you not found the jobs correct information or old date circular then please let us know. We are try to update our existing circular as soon as possible. If you have any suggestion then please inform me. In the future we will try to improve our nnews or jobs or result information. From next we are announced USA Jobs, Canada Jobs, Australia and all others country jobs newws. Also we are try to announce all kinds of country VISA application information. Like As USA green card information. We are published all kinds of education news, jobs circular, latest exam result, study abroad news. Also published most of the country education scholarship and university admission latest information. So get all kinds of latest news then keep your eye on our website regularly. If you have any question or have any query then please contact with us. we will reply your request within 2 business day. Thanks